One day visit: El Puerto de las Nieves, what to do
There are many visitors who decide to spend a day in Agaete but not everyone has the same luck as you, and we say this because we are going to give you the best 100% local advice so that you can enjoy your visit to Agaete to the fullest.
Imagine that you arrive in the morning to El Puerto de las Nieves in Agaete ready to spend the day, these are the things that we think you should do, we hope you enjoy it!
Arrival at El Puerto de las Nieves
Access to Puerto de la Nieves can be done from the GC-2 road if you come from Las Palmas or from the GC-200 road if you come from La Aldea de San Nicolás, you can also get there by boat from Santa Cruz de Tenerife since only It takes 80 minutes and there are a lot of boats. If you come by car, the first thing you are going to have to do is look for parking, in Puerto de las Nieves there is not much space for cars so you have the option of parking in the town and walking or using one of the many paid parking lots there are, they are quite cheap and there is usually a place to park.
Once we are in Puerto de las Nieves, there is only one thing to do… enjoy the day!
Agaete is called "The fishing village" and that is due to its ancient fishing tradition, today there is still traditional fishing activity although it has been greatly reduced. Puerto de las Nieves smells of the sea, fishing is alive and can be seen in every corner. During the week (except on local holidays) it is a very quiet place and although there are always tourists it is not a crowded place, you can walk quietly through its streets and enjoy the beauty of the landscape.
In Puerto de las Nieves there are two beaches, beach of El Muelle and beach of las Nieves, on these beaches there are no waves and you can swim calmly. On the beach of El Muelle there is a bit of volcanic sand, especially at low tide, and the beach of las Nieves is made up of boulders, you can enjoy them almost all year round as the temperatures are good even in winter.
If you like to enjoy the local atmosphere you can sit on one of the benches on the old pier, it is a place that the local people enjoy a lot since every day (weather permitting) they come to take a bath in the calm waters of the pier.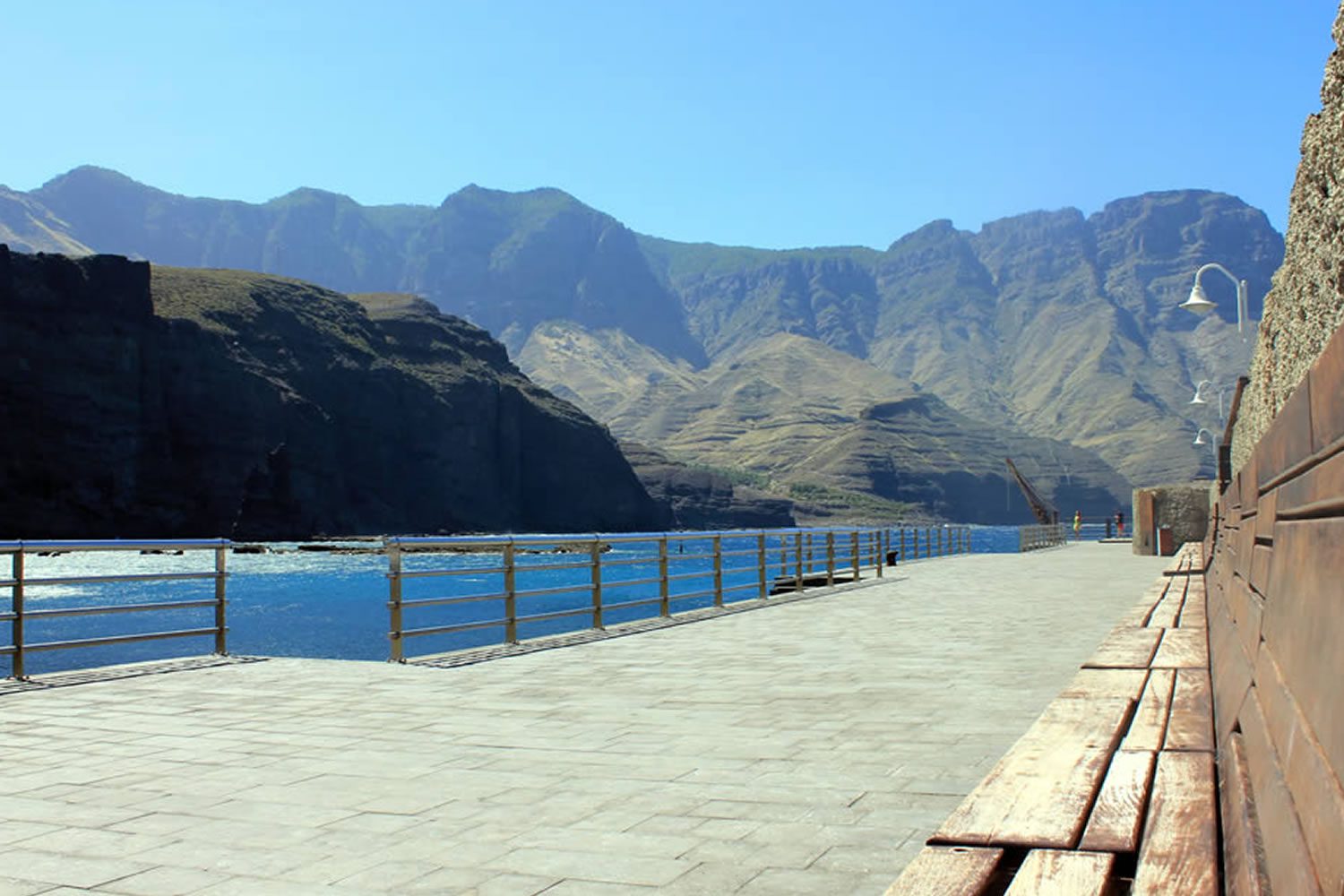 Eating at the local restaurants of Agaete
Agaete is very popular for its gastronomy, there are many restaurants in the Puerto de las Nieves area where you can taste the local cuisine. There are different types of restaurants, although in most of them you can find fresh fish. If you want to know more about the restaurants in Agaete you can visit this page and choose the one that best suits your tastes.
The natural pools of Las Salinas
As you may already know, in the north of Gran Canaria there are volcanic formations on the coast where the water has formed small natural pools. Some are 100% natural, no man has modified their environment and others have been adapted to facilitate access to the sea. The exterior of the natural pools of Las Salinas was minimally adapted to make bathing easier for people, although it largely retains its originality. They are three volcanic pools connected to each other and that regenerate their water every day with the tides. The views are incredible and the atmosphere is calm and relaxed, definitely a place to visit.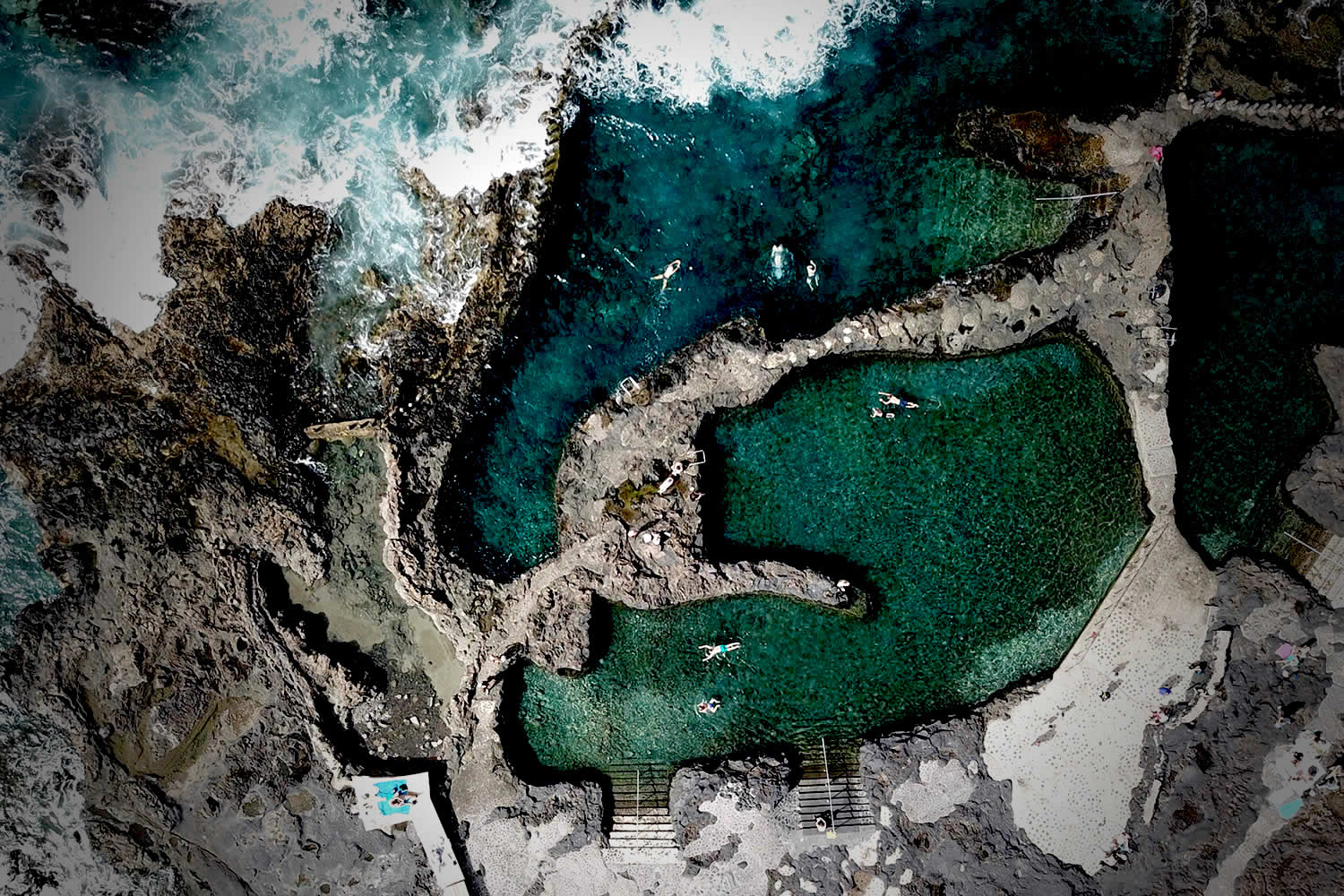 Sunset is a special moment of the day, in Agaete there are different places to see and enjoy this moment. Agaete's promenade is a good place to watch the sunset, we can do it from the bridge at the entrance to the port or if we prefer to walk a little further we can do it from the end of the promenade next to a small lighthouse. Depending on the time of year, we will see the sun disappear in different places, although the most frequent is that it hides behind the island of Tenerife, a unique visual spectacle.